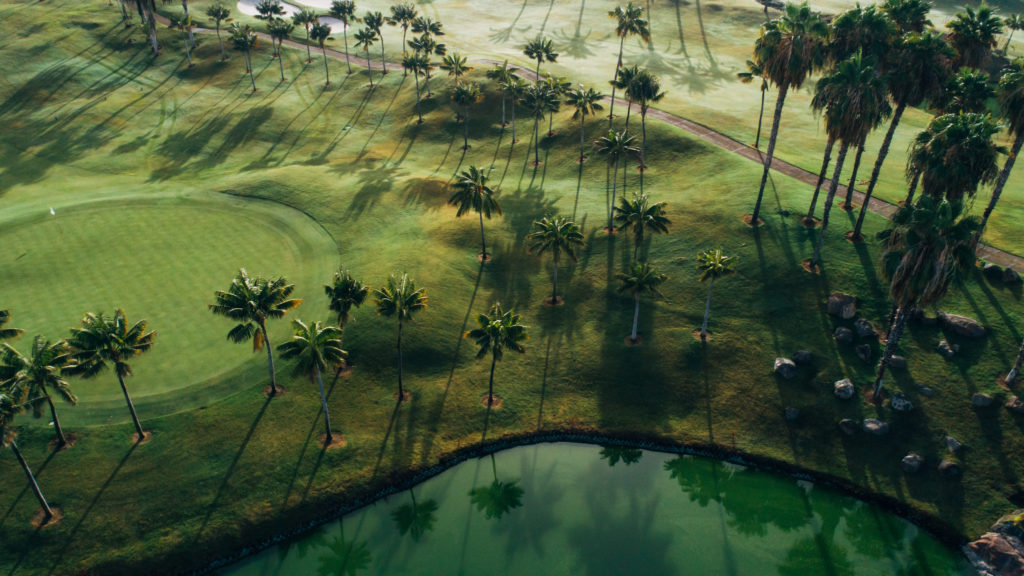 At Arum Group we know golf is more than a sport; it is a lifestyle, and golf course planning is an art form in itself. It involves not only the design of the golf course, but also the preparation of the host of services and ancillary businesses that accompany it. And these are key to stimulating the growth of a thriving residential community that flourishes around the fairways.
With our experience in the conceptualization, redesign and maintenance of first-class golf facilities, as well as our expertise in resort real estate development, we have optimized our golf course planning process. Our goal for clients is clear: to make their course a standout competitor in the sector. We create golf courses capable of generating independent, profitable and sustainable business units that guarantee long-term investment returns.
Thanks to this approach, which has been put to the test throughout Spain, our golf projects are synonymous with professional excellence in the sport and are also a fundamental driver for residential real estate sales in the area. Endorsed by Golf Digest, Abama Golf, in the exclusive residential and tourist complex of the same name, was the first course in Spain to receive the IAGTO quality certification that places it among the best in the world. The veteran Real Golf La Manga Club, with more than 50 years in operation, plays host to esteemed national and international tournaments. And Bonmont Resort, certified by the European Tour, attracts world-class golf names throughout the year.
Below, we summarise five fundamental requisites in golf course development projects:
1 – Environmental responsibility and customised technical planning
2 – Strategic and business plans
3 – Golf development: unique design by signature professionals
4 – A strategic look at golf course redesign
5 – Residential complexes: golf course housing development
Environmental responsibility and customised technical planning
Both in new construction and in the redesign of facilities, a golf development project must begin with technical golf course studies that go beyond simple legal requirements. Sustainability is at the core of the equation, and these studies should be carried out by professionals capable of analysing the physical environment and performing environmental and urban evaluations of the land. Partners who develop programmes for golf course agronomic maintenance are also a must.
As a fundamental factor in ensuring the sustainability of a golf project, priority must also be given to the analysis of the availability and concession of sustainable water sources. Likewise, special attention is required for lake construction to develop a functional and aesthetic course design without neglecting the technical requirements for adequate waterproofing. All of this requires conscientious planning with regard to the environment. Efficient installations in golf course irrigation systems guarantee an even water distribution with a minimum of leaks and unnecessary consumption.
The engineering work included in the construction budget of a golf course is vital to the process of coordinating and supervising the drainage network and the creation of these irrigation systems in accordance with current regulations. The optimization of wastewater purification systems and the desalination of sea water are likewise aspects of development that require specialized consulting. Golf course irrigation and other environmental audits are but two of the tools used by Arum to begin the process of technical design and compliance.
Strategic and business plans
A golf club strategic plan requires a complete analysis of the particular conditions of the chosen geographical location, especially if the facility will also serve a residential community. The complementary services offered to the golfer, her family and guests must be taken into consideration in addition to the golf services themselves. Likewise, when placing a golf offer on the market, its potential can only be fully realized by identifying local attractions apart from the golf course itself, in order to promote a golf experience that can extend over more than one day. The landscape, climate, accessibility and unique charms of the location should become part of the promotional objectives and serve as an incentive for real estate sales.
Residential golf resort complexes can be multi-purpose spaces where regular residents and occasional visitors live together in beautiful surroundings centered around the golf landscape. Golf course development companies know that immersing oneself in this world is a rewarding experience and one that encourages sport enthusiasts to search for different locations where they can display their talent or even settle down and establish a holiday home. Playing golf thus becomes a search for new challenges to share with other enthusiasts and fans and, in short, a lifestyle. Therefore, the strategy for a golf resort must make it a place that users want to return to.
Creating an open and stimulating environment, complete with a wide range of complementary activities, is the first step in the operational plan of a golf project with 360º vision. It takes into account both the needs of the occasional tourist and also of those who want to set up a residence. This strategy should cover the professional needs of the golfer in terms of equipment and mobility, but also other services like accommodation, dining, and leisure. Outstanding companies in golf course planning manage all the services that revolve around a course, and this allows them to mould a comprehensive experience that doesn't sacrifice a single detail.
Golf development: unique design by signature professionals
The urban management of a golf resort requires permanent coordination with local authorities for an appropriate use of the land. Infrastructure that complies with current urban planning regulations and regional and state legislation is integral to the design.
Going the distance in the design of golf courses also means involving expert golfers who, thanks to their experience, can aide in the layout of professional courses that can host world-class tournaments and also provide varying levels of difficulty for players. These household names transform ordinary golf courses into signature golf courses, and lend their personality to the green. As such, they also become a fundamental part of golf resort promotion strategy and generate confidence among investors.
Before undertaking the excavation, moulding and construction of the golf course, the team must carry out a golf course feasibility study that employs legal and technical knowledge to guarantee the viability of the project. Experienced golf architects will leave their mark through high quality design. At Abama Golf, famed golfer Dave Thomas was responsible for this impressive par-72 course, now recognized as one of the best in Europe. At the Bonmont course in Tarragona, praised for its perfect balance with the landscape, prestigious golf course designer Robert Trent Jones Jr. lent his expertise in the golf course planning.
A strategic look at golf course redesign
Golf course planning is a dynamic field. All golfers, whether amateurs or experts, demand not only a safe course that can adapt to their playing level, but also pleasant landscapes and easily accessible residential and leisure services. As such, older courses may periodically require a golf course redesign to meet current expectations.
Preceding a redesign, each component of the course and surrounding amenities has to be reviewed to bring it up it to modern golf course standards. Resorts that were once a reference in the sport may, over the years, face a reduction in activity that requires redefining objectives or the target market. The real estate and commercial components closely linked to the activity of the course should also be included in this exercise.
Advances in golf begin with installing modern infrastructure adaptable to the needs of all players and that responds to current environmental regulations. If new layouts are required, the natural canvas offered by the land should guide the work, making the most of existing valleys, gradients and elevated areas. Similarly, respect for the native vegetation allows for the creation of unique landscapes without imposing upon or altering the ecosystem.
Becoming a true golf destination means more than having a great technical course. One of the objectives in the construction of a golf resort should be to become an attraction for tourists and real estate investors as well. During the redesign work, the golf club business plan should also include other social and leisure units such as hotels, residential properties, restaurants and shops, while still striving to make the course financially independent.
Residential complexes: golf course housing development
When a residential complex is designed around a golf course, day-to-day living always has golf at its center. Whether near the sea or in the mountains, close to urban areas or in stunning isolated regions, for families or couples, a golf course housing development must have its own character and appeal to different types of buyers. Modern features, avant-garde architecture, and panoramic views can coexist, depending on the project, with other sports and leisure facilities that serve as an accompaniment to golf. As leaders in golf property development, Arum Group knows that only projects with a comprehensive vision will offer assets that are a secure investment.
Sale of commercial space on golf courses
There are a number of ancillary attractions that can shape the character of a golf resort, including gyms and other sports facilities like tennis and paddle courts, football, cricket, rugby or horseback riding areas; swimming pools and spas; and restaurants, bars, cafes and shops.
With these services close at hand, golf course apartments can be developed that are capable of attracting a diverse range of buyers and making the most of the destination's potential. It is important to work with architecture studios and resort management professionals that understand the destination's unique characteristics and design commercially viable projects that are varied in nature. The communities should be charismatic, easily accessible, and capable of being used as permanent homes or tourism rentals. Their locations and commercial and service establishments must be designed for the comfort, not only of the players, but also their companions, without having to leave the grounds.
An onsite hotel is also crucial, and this establishment should be operated by professionals whose brand aligns with the profile of property owners. An offer of both hotel and tourism apartments with professional management can foment recognition at national and international levels.
Resort Property Management
Investing in a golf resort property has become a safe bet. With the golf course as the main attraction, a constant flow of visitors who use the holiday rentals is guaranteed, and this in return guarantees owners a return on their tourism accommodation investment. Those who plan to spent long periods of time at their property will find residences that meet their expectations in terms of size, space distribution, outdoor spaces and swimming pools, and even apartments that are fully furnished with luxury brands. Those who plan to stay at their property only for short periods of time will enjoy the same facilities and, in addition, receive more income from rentals when they are away. The most prestigious golf resorts provide owners with a team specialised in the management of villas and flats intended for seasonal tourism, giving the owner the assurance that their property is always well-maintained.
Golf events and community building
Golf's popularity can also be leveraged for the purposes of community building and marketing through golf events. These can take many different forms. If you have an established residential community, regular tournaments or group classes can bring owners together in a relaxed way and help them strengthen bonds with neighbors through an activity they have in common. You can also offer spots in tournaments to potential buyers, therefore helping them get to know the community they would be joining. It's an opportunity for them to get the impressions of people who have already purchased a home and can tout its benefits with authority.
It's also worth exploring participation in golf events outside your resort. These can be a wonderful way to introduce your development to a larger audience that has an affinity for golf, and to perform benchmarks of tournament organization and networking. It will also give you a far better idea of cultural expectations surrounding golf in the countries to which you travel, and enable you to better serve your international clientele at home.
As specialists in golf course planning, Arum Group is constantly analyzing trends in the sector to offer our clients the latest infrastructure, equipment, design and execution of masterplans that will push their golf facilities to the highest levels. Whether a new construction or a redesign, the courses managed by Arum Group consistently stand out for their high standards and wide range of complementary real estate and commercial offers.