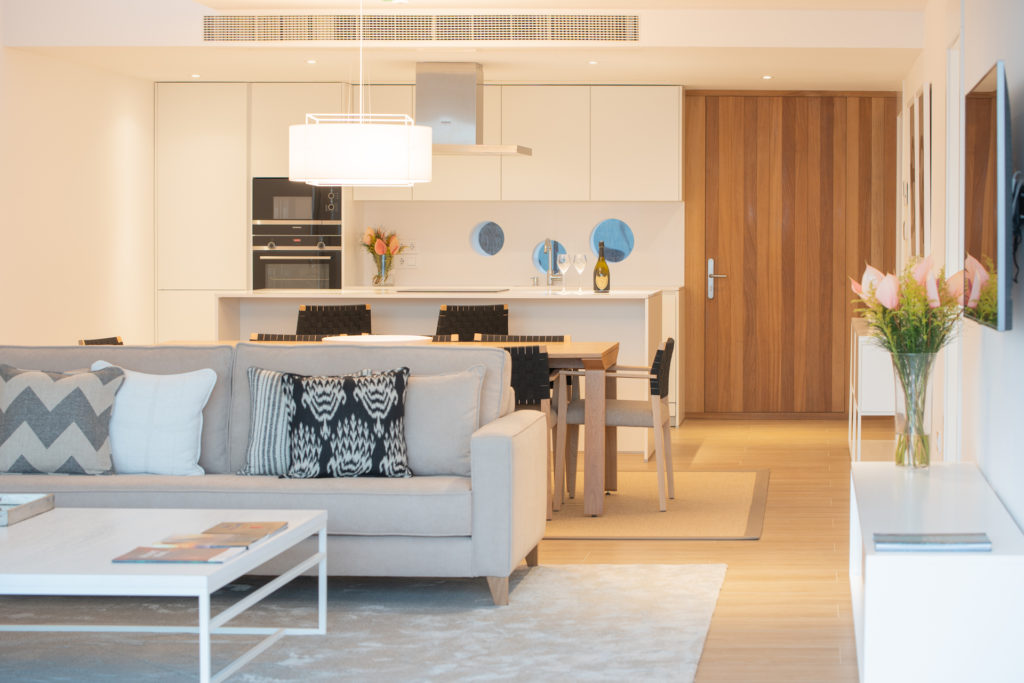 Once the exclusive sphere of international hotel brands, branded residences have experienced over 170% growth over the last decade in terms of number of projects globally. This expansion is thanks, in large part, to new players entering the market and capitalizing on their strengths in design, operations and development, or brand loyalty in other industries. Important too is the diversity of the target market, which has created opportunities outside traditional parameters.
According to the Savills Branded Residences Report from 2020, well known hotel brands such as Four Seasons, Rosewood, Marriott, Accor, and IHG continue to be among the top ten players in the sector. But if pipeline projects are considered, there are a number of additional non-hotel companies that are steadily gaining in strength, including YOO and Emaar. These companies have successfully leveraged their strengths and their knowledge of expectations in a diversity of geographic locations to develop projects that, while remaining branded, are also unique. And this has translated into a welcome reception among buyers with shifting expectations.
In Spain, which currently has a relatively low number of branded residences projects, growth of over 80% is expected in the coming 4 years. This development is incentivized by the price differential between land zoned for residential use versus hotel or tourism use, particularly in the context of resorts. In large cities, the saturated business travel hotel offer will favor the reconversion of urban hotels into apartments that offer hotel services. And there are also interesting possibilities surrounding the offer of this product for upscale senior living, with total or partial use, for Baby Boomers and Gen Xers, who will represent an increasing percentage of the market as they age.
Despite the opportunities, careful planning and skillful execution are required to make a success of these complex products. Concept development tasks include market research, and product definition and brand selection. Construction must be carried out by trusted developers. Operation tasks include the selection of an operator or the direct management of hotel accommodation and F&B operations management; HR training; asset maintenance; as well as design and management of experience programs for owners and guests. And there are also project marketing, promotion and sales of rooms and F&B, control and influence over the owner community, and management and use of the brand, if applicable, to consider.
Arum Group's years of experience in resort and mixed-use development have demonstrated that serviced residences have a particularly promising present and future in the resort setting, especially in the post-Covid era. Five-star service combines with the privacies afforded by a gated community that provides security, leisure, outdoor areas for recreation or relaxation, and private pools and gardens. With a lack of operators in Spain specialized in asset management for these products, Arum has developed a matrix of skills that we deploy in our high-end projects throughout the country.
Concept and product analysis
One of the most complex aspects of these projects is the definition of the product, which demands a multivariate analysis of options for zoning (residential, tourism, or hotel); type of product (integrated, standalone, adjacent, or condo-hotel); management contract (branded or non-branded); type of branding (hotel, non-hotel, or none); and owner compensation (pooled, non-pooled, or mixed).
These factors and more must be cross-analyzed with the geographic and target market to determine the product concept, and a range of management tools deployed depending on the chosen concept. If a luxury brand is selected, asset management skills will be required, and the know-how for subcontracting parts of the activity may be necessary in other configurations.
Location choice
Greater premiums are offered for branded residences in new markets, and in resort spaces there is a broader range of potential brands, as well, including upscale and midscale, rather than only luxury. Most luxury brands, in fact, currently operate in consolidated urban locations, and this is where 63% of existing branded residences are located.
Many resorts already fulfil one or several location criteria for the establishment of a successful branded residence. Many are in idyllic, tranquil settings, or they form part of a known tourism destination, with the established leisure and service offers that this implies. They respond to a desire to have everything at your fingertips, while allowing for escape from the hectic pace of urban life. They can be used off-season or for longer stays or remote work.
New buyer trends and expectations
Wellness, Environmental Social Governance, and an increasing focus on the circular economy are important new purchasing considerations for buyers. Whether the project is associated with a brand or not, the brand or the location must be clear with regard to its health and sustainability positioning. Both guests and owners want to buy into a system that enables them to make good choices for themselves and others.
This positioning should be reflected in the common areas of the residences, where there should be fitness and open-air options, but developers need to go much further, considering the food and beverage offer; human resource planning; the technical aspects of resort operation strategy; and the ways the resort interacts with its surrounding community.
Modern-day buyers place a greater premium on good design and quality construction, and this must be factored in at the planning stages, as must the desire for private outdoor space and indoor working space. The services available to owners must include security and management, making lock-and-leave easy for people with multiple homes.
Value also accrues from additional on-demand services designed to serve owners who are tight on leisure time, including housekeeping, Kids' Clubs, chef-at-home services, pet care, and meeting facilities.
Construction, sales and marketing
Achieving an optimal balance of interests between brands, developers, and owners is another complex challenge in branded residences projects. The project manager must ensure that the brand remains untarnished, meaning that construction and development have to be carried out on schedule and in alignment with brand standards. Marketing must also be coordinated in a way that respects brand strategies but can be applied effectively to target buyers in multiple different geographic locations.
The developer should be able to leverage the brand to drive interest from brand-loyal consumers, but must also recognize that this loyalty comes with certain expectations that must be fulfilled for the project to be seen as authentic to the brand. Additionally, the developer must provide services and an operational structure that justifies the price premiums owners pay. This is particularly relevant with regard to rental schemes and their compensation, because investment is often a significant consideration in the purchase. Both operators and homeowners should receive benefits from the rental structure.
The sum total of benefits from the location, services, rental management, and overall experience of living in branded residences are what makes this product both attractive and complex. But Arum Group's experience in Spain with resort development and strategies for real estate innovation have made it clear that this sector's growth is no coincidence. Particularly given the recent shifts in consumer expectations, we expect strong growth to continue and give rise to numerous creative projects in Spain.