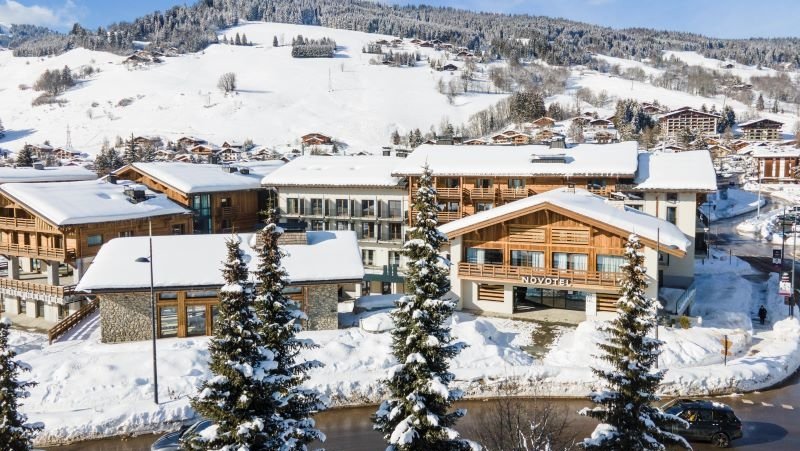 The anticipated reopening of ski resorts in Italy this month is causing great trepidation among winter sports fans keen to get their hit of fresh snow. With the exception of France, other European countries have open their lifts to an extent, but travel and COVID restrictions have meant much reduced business for all stakeholders. The loss of a full season's revenues from winter holidaymakers could prove devastating. Can hoteliers count on a late opening or on the summer season to recoup their losses?
"It's been an exasperating winter for European ski destinations given the ever-changing restrictions and lockdown rules" says Roger Allen, Group CEO of advisory firm RLA. "There has been very little certainty for the avid skier in booking a trip given that many locations have seen accommodations and ski lifts closed. Many resorts and tour operators have offered money back guarantees and rebooking flexibility, which seems to have reaped some sales relief".
A short season
Most of Europe's ski resorts have indeed been closed to international travellers, with some destinations allowing local users on the pistes, while others kept them closed to all. In January, Club Med CEO Henri Giscard d'Estaing called for the French government to allow ski resorts to open at the beginning of February, citing the importance of the 'French mountain ecosystem' in terms of jobs, investment, sports and tourism. He added in an interview to French paper JDD that "allowing winter sports resorts to only welcome customers at the beginning of March would make as much sense as opening beaches in October".
Ski resorts can only count on three months' worth of suitable snow conditions, and demand based around holidays is critical. Nevius Glussi, CEO of private equity fund Trinity Hospitality Group says the winter season "tends to be quite short. Every single week that goes on we are missing important holidays like Christmas, New Year, the Orthodox Christmas and New Year, and mid-term school holidays."
Financial impact on hotels
Predictably, the financial impact for the hotel sector has been severe. Rheanna Norris, Associate Analyst at GlobalData, comments: "If there are no or reduced numbers of travellers in the resort, then income streams will be limited. Any traffic at these ski resorts is likely to be from a domestic source market, where average spending per tourist is lower, resulting in further financial decline". She adds that "smaller, family operated businesses are likely to be the worst impacted, as they are typically standalone businesses, which means they cannot offset these losses elsewhere".
Large hotel groups are also hit by the closures in more ways than one. Marc Serarols, SVP Operations – Franchise South of France, Spain, Portugal, Greece & Israel at Accor explains: "The impact of closures on hotels located in the resort itself could be in the range of 55% -70% of their annual turnover, in addition to the enormous losses on the F&B side due to the closure of bars and restaurants in hotels. The second impact concerns all the hotels located on the main roads leading to the ski resorts. This is even more important for us as a hotel operator. These hotels are generally full on Friday and Saturday evenings during the ski season".
Government support
Have mountain resorts received enough support to survive? Hotels have generally benefitted from COVID-related measures, and in France the government announced a rescue plan dubbed 'plan montagne' specifically targeted at the sector. The measures were however deemed insufficient.
In particular, the plan does not cover new hotel openings, as Serarols says: "Having no history of turnover, the hotels opening this season unfortunately cannot benefit from aid under the French solidarity fund. This constitutes a serious difficulty for entrepreneurs who, despite the difficulty of the moment, have decided to invest and continue their projects for the future benefit of all".
Hope for summer?
Will mountain resorts be able to count on the summer season to recover part of their income? Mountain tourism in the summer has been a growing trend: the desire for outdoors-based holidays, accelerated by the pandemic, plays in their favour.
Elodie Casola Dunkin, Director of Marketing & Communication at developer Arum Group, which works with mountain resorts in Andorra, says: "The work that has been done for years on developing the summer product is paying off. This summer, there has been record customer data, as the new trend in holiday consumption is geared towards nature and open spaces free of crowds".
However the summer season is not likely to be enough to recoup the loss of revenue from the winter. Casola says "income during the summer season is not comparable to that of winter. Although a great job is being done to attract more and more tourism in summer, the number of visitors and the average spend per customer is much lower than in winter. It will help us, but we will not be able to recover the lost earnings". Serarols adds "We could get good occupancy rates [in the summer] if sanitary measures were relaxed, and bars and restaurants were allowed to reopen. All this thanks to a local national and international clientele if the borders are open. Having said that, we are concerned that the financial impact suffered during the winter season may be irrecoverable".
Glussi adds: "Operating a hotel in the mountain is significantly more expensive than operating one by the beach, just because of the climate and the location. The summer season, with the exception of few markets such as Italy which has been extremely successful in summer, represents a fraction of revenues".
From the perspective of an investor looking at distress opportunities, Glussi says "This quarter will determine whether we're going to find a lot of opportunities in the winter ski resort market, because a full season with no occupancy and no revenues is going to start having an impact".
VIEW MORE https://www.hospitalityinsights.com/content/will-mountain-resorts-recover-from-no-ski-season?mkt_tok=eyJpIjoiWWpSaU1HRmxOR000TTJWaSIsInQiOiJDQlg0UlNLcFNhXC9scDhSdnJZOGg5b2dZZnRLQTFJdkJDQ3c5ZTQrSFhEdUsySm5lNTdTWnNQMlhBbEZYSWpSaitQcEkxVDBPY200UXU5cTNnV0FQUWZJQWQrVnZKK0JDUU55WFIwMlVVbEdyUzh4YkEyWDJkZnN2dndpNXZjMFZobGtBa3ptN1lPWVhKdVREdjFDazRnPT0ifQ%3D%3D&mrkid=36638364