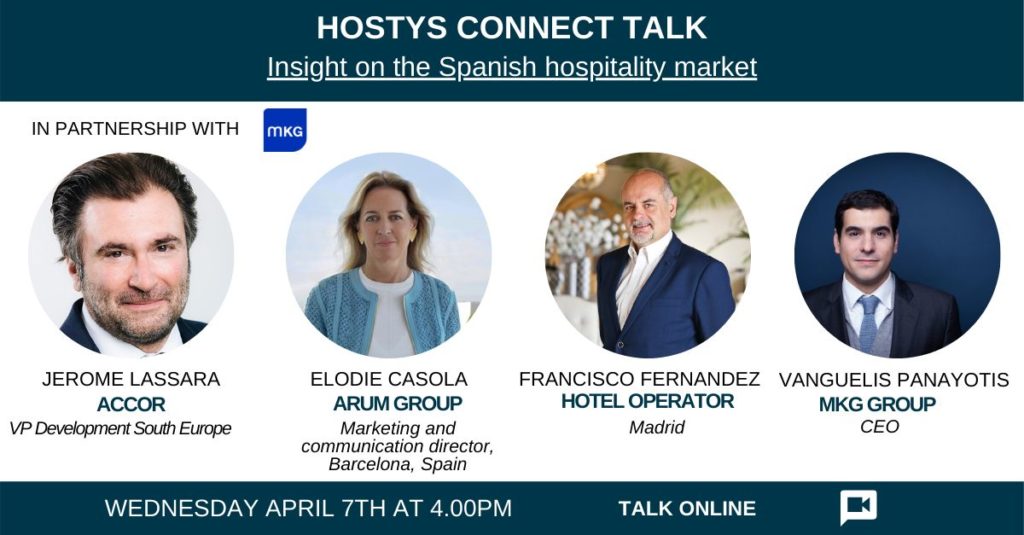 Elodie Casola, from Arum Group, participated in a Hostys Connect webinar with international experts, consultants and investors summarizing the forecasts for the tourism sector in Spain, and shedding light on the new real estate offer that will emerge from the hotel sector crisis
After a very difficult year for the Spanish tourism sector, the easing of travel restrictions and the progress in vaccine campaigns are revealing a light at the end of the tunnel. However, experts agree that the improving situation will not result in a full house this summer. It will be in the first months of 2022, during the high season in areas like the Canary Islands, that the long-awaited boom in bookings and visits will begin. This will be especially intense in resorts and tourism facilities that offer space, fresh air and the organizational capacity to generate the sense of security, tranquility and health we were robbed of by the pandemic.
These were the principal conclusions of the specialists who participated in the recent panel on the Spanish hotel sector hosted by Hostys Connect, an organization that connects international investors, operators, consultants and specialists in the tourism and real estate sectors. In France, Hostys Connect also organizes the only annual meeting at which all levels of decision-makers for high-end hotel and residential projects are represented.
At this Hostys online event, focused on Spain, Arum Group was represented by Marketing and Communications Director Elodie Casola. Joining her in this talk moderated by Vanguelis Panayotis, CEO of MKG Group, were Francisco Fernández, a specialist in hotel management with a long career in senior positions in major Spanish hotel groups; and Jerome Lassara, Vice President and Head of Development for the Accor Group in Southern Europe.
Although hotel chains are confident that establishments will reopen in Spain in summer 2021, occupancy forecasts are not yet optimistic enough to signal full recovery in a sector that continues to be weighed down by health and mobility restrictions and the health impact of the pandemic. More positive numbers will likely be seen from the first months of 2022, but the return to the pre-pandemic record tourism levels in Spain is not expected until 2023 or even 2024.
According to Francisco Fernández, the Coronavirus has changed "the model of tourism as a whole." Thus, for hotels that do not make radical changes (principally those whose business model relied exclusively on tourism), "it will never be possible to return to pre-pandemic figures." On the other hand, those whose model has adapted to new tourism expectations, and is therefore more sustainable, will find opportunities in the situation, "for the results will come quickly and will be spectacular."
"Reaching short-term occupancies of 50% is a good goal right now, but if there are advances in the vaccine campaigns and forecasts are met, I believe that we can also have a good winter, mainly in destinations with excellent weather like the Canary Islands, where it will be high season. I think that the summer of 2022 will be very good in terms of demand, as I expect that the airlines, which have also been affected by cuts, will already have the capacity to absorb travelers' requests," Fernandez stressed.
Market niches such as resorts and hotels linked to wellness are presumably those best positioned to start up more quickly and with more guarantees, since, as Casola explained, the trend of looking for a tourism product that offers a greater sense of control, sustainability, health and wellness is here to stay. Resorts with a low population density that are isolated, and have a diverse sport, restaurant and leisure offer, like Abama Resort (Tenerife) and La Manga Club (Murcia), two Arum Group projects, are highly attractive to travelers and guests.
The changes now requested by the "new travelers" are conditioned by this need for tranquility and security and appropriate social distancing: Casola notes the demand for "open air, landscaped zones, spacious indoor areas, healthy restaurants with terraces, specialized room service, and excursions near the destination adapted to mini-groups or couples." In the wellness sector, she added, there are many opportunities, including in-room services, adapted or socially-distanced sports, and medical treatments. "All the resorts in Spain are already offering these types of services: a lot of wellness, health and personalized attention, organic food…this is a trend: health, controlled sports, yoga and meditation, etc. In short," she concluded, "people want to recover the energy they have lost in this period of physical and emotional wear-and-tear."
"At Abama Resort, the hotels have remained open, and we are observing how both national and local clients are enthusiastic, not only about staying at the Las Terrazas de Abama hotel, but also about purchasing homes. We have high quality properties with hotel services in the resort, and for the first time the Spanish market has been acquiring these apartments, detached villas, and plots in larger numbers. We see it as a response to the pandemic. People want a type of product that offers a mix of property and hotel services: tourism apartments, branded residences, etc… It has been a very interesting evolution in the Spanish market as more people turn to exclusive destinations."
"Another thing is that even with the pandemic travel restrictions, international clients have been buying properties remotely, which is fantastic. These are people who already knew us, people who had come to the hotel, friends of owners. They believe it's the time to buy, to have something to look forward to, and that offers a more secure future," she concluded.
Opportunities for real estate investments
The webinar focused not only on the projected trends in the Spanish tourism sector, but also on the emerging new real estate opportunities as hotels and resorts that have not withstood the crisis are coming onto the supply market at competitive prices throughout Spain.
In this regard, Jerome Lassara, head of Accor, stated there are a large number of international investors awaiting these "good and well-priced" opportunities that are emerging. "The big brands are moving because there is already a possibility of buying excellent hotels that, under a prestigious brand with quality service, can make long-term investments in Spain profitable."
However, Francisco Fernández pointed out that although "this new market is redefining everything, we must also bear in mind that in Spain, up until now, the big international hotel brands have generally not been successful in their management of holiday establishments. They have not properly understood the dynamics of our market and the distribution of this type of product. They do not have the local know-how to compete and, in addition, they have inefficient operating cost structures." Success now must include a reexamination of business models that take the new situation into account.
Elodie Casola, for her part, explained that Arum, as consultants and investors, sees this as a time of opportunity. "We have been in the national and international market for a long time and I think we have the experience to find new projects that can work. In fact, we are seeing many new alternatives in the market." Undoubtedly, she said, there will be good business possibilities throughout Europe, but especially in Spain, "because it is still a market with room for growth, unlike many other countries."
With regard to established brands, she explained that "branding is important; brands are stronger now than ever. People want control, security, and responsibility, and a consolidated brand with a good reputation, that keeps everything under control, affords a lot of confidence. That is why in new investments we always think carefully about the right brand to partner with. And all-inclusive, branded residences will now become more enticing than ever," she added. "This is something we have already been working on at Abama Resort, for example, because in the long term, it can only serve to strengthen a destination."
If you missed the webinar, you can access it at the following link: