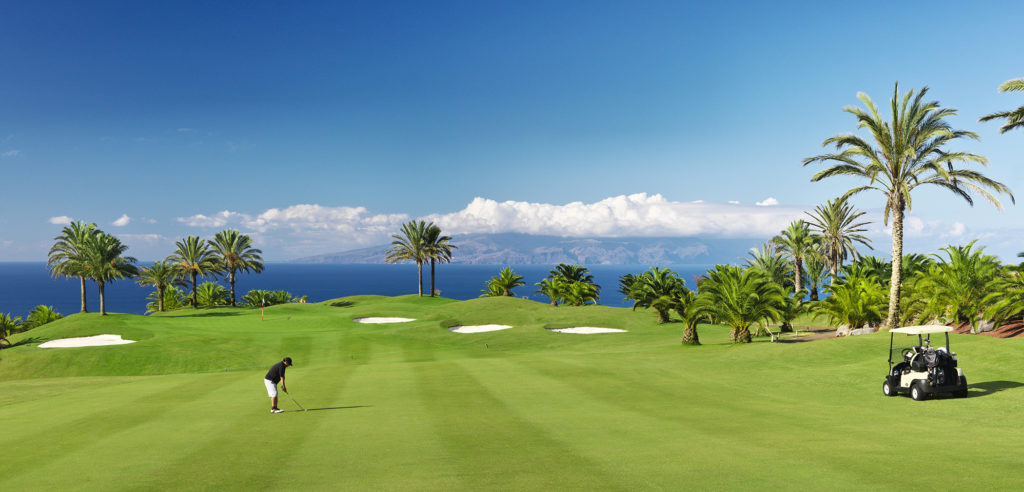 Golf is and will continue to be the main 'anchor' for luxury resorts and one of the catalysts to help the tourism industry recover starting in the second half of the year. This is one of the conclusions drawn from yesterday's webinar organized by the Arum Group, in collaboration with the Spanish Association of Golf Courses (AECG). Titled 'Golf Resorts at a Turning Point in the Era of COVID-19', it attempted to shed light on the future to come following the pandemic.
The fact is, golf is back in fashion again. It can be played individually or in small groups, outdoors, while enjoying spectacular scenery. It is a sport considered 'safe' even by health experts, which has helped prevent its growth from slowing, even in a year as crippling for sports as the last one. The figures do not lie. In Spain, the number of golf memberships grew throughout 2020 for the second consecutive year, to 271,788 members, 270,219 of them amateurs and 1,569 professionals, according to the Royal Spanish Golf Federation (RFEG).
But what has the golf industry learned from this crisis and what challenges does it face going forward? These are the questions addressed at this gathering, moderated by Jesús Abellán, CEO of the Arum Group, with three heads of leading Spanish resorts: Carlos Erburu, chief operating officer for La Manga Club, in Murcia; Vicente Rubio, general manager of Finca Cortesín, in Málaga; and Rafael Noblejas, general manager of Grupo Timón and its property and hotel division, Grupo Tropical Hoteles, which manages Abama Resort in Tenerife.
In their opinion, despite the fact that golf may benefit from the pandemic, resorts must adapt to the new 'needs of potential customers'. Trends that were already emerging before the health crisis will accelerate. 'We are not talking about anything new, but there will be changes in consumption, and people will seek out greater safety,' underlined Vicente Rubio. The values of resorts will be on the rise, issues such as solidarity, sustainability, carbon footprint, healthy living, attention to diet, sports, yoga, meditation, wellness, a healthy and secure environment, etc. will be key to the success of golf resorts in the future.
'Each brand's ability to adapt to these new concepts will be key to remaining leaders in the tourism industry. It will depend on how quickly we move in comparison with other competing markets, such as Turkey, so that we can maintain our leadership,' added Carlos Erburu.
Tourism recovery will be exponential once the pandemic has been overcome, while business will recover more slowly. This is how Rafael Noblejas described it: 'We are seeing the end of the tunnel. Our forecasts are that, if the pace of vaccinations is met at the global level, normalization will begin in the second half of this year, and there will be considerable growth in 2022. But technological development, how we have learned to communicate during this crisis, in which mobility has been limited, will cause the business sector to undergo a more radical change. Many trips will be unnecessary.'
For his part, during the introduction to this webinar, Javier Ínsula, vice-president of the AECG, reminded viewers that golf will play a crucial role in job creation in upcoming months, as 7 of every 8 euros do not go into the industry, but to outside networks, such as the services, hospitality and property industries, which will help boost the overall economy. This is one of the findings of the study on the economic impact of golf in 2020, made possible by the AECG and the RFEG, which reveals that the sector generates more than 11,000 million euros and 121,000 direct and indirect jobs, and brings around 1.2 million golf tourists to Spain each year.
Impact on the property sector
Golf is and will continue to be the great catalyst for property investment in resorts, in the opinion of these experts. Spain will continue to produce new products, because there is land, but 'the future trend will be low density, creating resorts of no more than 10 residences per hectare,' remarked Vicente Rubio. In his opinion, golf courses, like any other business unit, must be profitable in themselves. It does not make sense for the other units that make up a resort (hotels, wellness centres, restaurants, other sports complexes, property division, property management, concierge service and resident association management, among others) to be potentially affected economically, hindering the viability of the business.
Telework and the desire for security will drive the purchase of larger homes in open areas within a controlled environment and with services, which will undoubtedly foster investment in the future of property products at golf resorts. In this regard, digital marketing and virtual sales become essential tools for promoting residences, in particular, and other resort services, in general.
The variety of services and activities offered, as well as the possibility of renting out the residence, are also increasingly important aspects for the success of a resort, but not to attain profitability at all levels. The owner of a four-million-euro home, for example, is more concerned about their residence being taken care of than obtaining a profit from it. The concept of profitability is normally associated with residences built under the umbrella of hotel chains.
This has been some of the content discussed during what is the first of a series of webinars organized by the Arum Group and AECG, which will adopt a range of approaches and give voice to professionals with proven experience, presenting the challenges, problems and strategies which may be vital for the golf industry in the short term.
IF YOU MISSED THE WEBINAR, YOU CAN WATCH AT:
https://info.arumgroup.es/ve-la-presentacion-arum-group-webinar-resorts-de-golf-en-epocas-de-covid-19