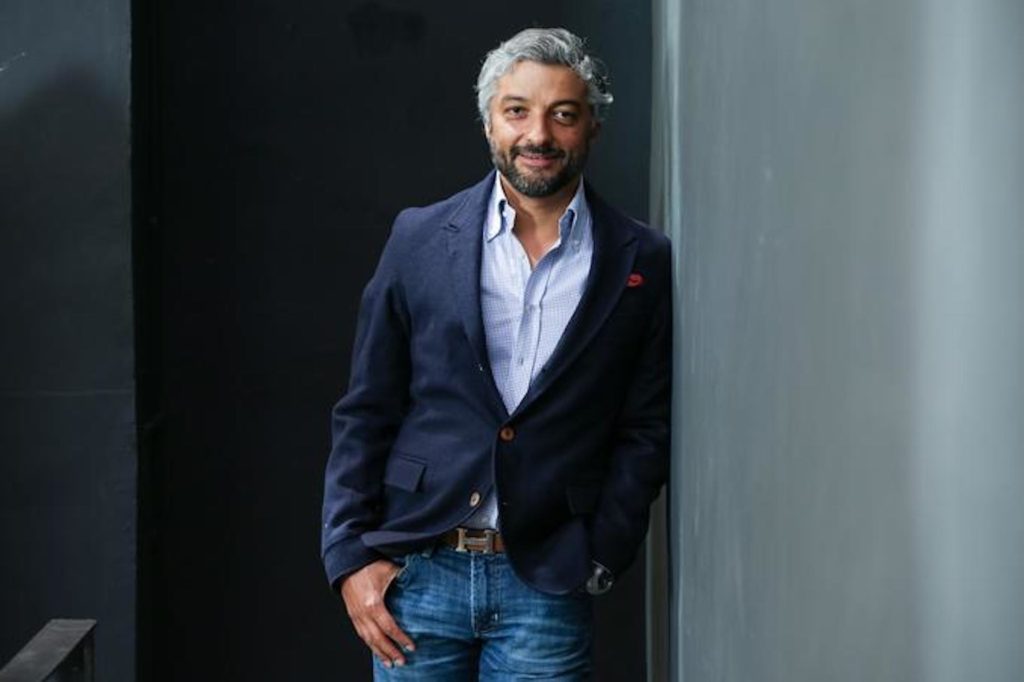 A proponent of natural materials, a champion of outdoor spaces, and convinced that a hotel developer-builder must bring something new into the world, Alejandro Escudero analyzes his landscape and materials before he begins to design, and allows them to guide the nature of his work. For this Mexican architect and interior designer, feeling at home in any hotel or real estate development means being able to draw from the warmth and particularities of the environment.
Influenced by the cultural richness of his home country and a great admirer of rural European architecture, Escudero seeks to combine the best of both these worlds. He tries to infuse his own personality into each project, steering clear of short-lived trends and homogeneity. Winning over Arum Group with his sensitive and sophisticated approach to making spaces livable, Escudero has been entrusted with the interior design of Plaza Abama at Abama Resort. This will be a gathering place for all the guests and residents of this resort on Tenerife, and a commercial and social hub that will combine leisure, shopping, entertainment and fine dining.
Today, we delve into Escudero's architectural philosophy to understand what he sees as the great challenges for real estate projects in the 21st Century.
How does the hotel sector need to adapt to the public's new demands?
People want to go out, they want to go places and feel at home, have authentic experiences with locals and steer clear of prefabricated experiences. I am staunchly blind to theme proposals and I try to follow my intuition when it comes to defining the personality of each project.
What does your vision consist of?
I have always used whole materials: wood and natural stone. In Spain, there is a strong tendency to use a lot of porcelain materials, ceramics and such, and what happens is that everything begins to look the same, everything has the same finishes and feels too utilitarian. It's tremendously impersonal. You can be in a flat in Madrid, Malaga or wherever, and everything is built the same. Mexican culture has a close relationship with nature and great creativity in terms of materials and textures, and I am also very influenced by the aesthetics and materials of the European countryside: slate roofs, stone walls. Those are my two great references, and integrating them into my work gives these projects a certain timelessness.
So you try to avoid what's trending in architecture and interior design?
It's just that I try not to fall into the trap of making decisions based on what's fashionable. There are trendy things that are appropriate for what I am doing and others I try to steer clear of; when I betray myself, I never end up happy with what I've made. Obviously, each project has its own characteristics but, in general, I try to respect that rule regardless of whether I'm working on a 400 sqm house, a 50 sqm flat or a commercial property, like a hotel with 150 rooms. It's a way of thinking that can scale to any size project.
Why the preference for natural materials?
If you use sustainable materials like wood that come from responsible manufacturers, in the end you leave a smaller environmental footprint than if you use artificial materials. The latter always leave byproducts and sophisticated production processes consume more energy. I use natural materials because, again, they lend a certain timelessness to the project. I can touch them, live with them. If I walk barefoot on a real wooden floor, it feels different than fake wood. Your step is different; it's smoother.
But there are new technologies that are far more sustainable than before…
Yes. It is definitely possible to combine new technology and old building methods in a far more sustainable way than how most people build today. You can use locally sourced materials and mix them with new technologies to deliver a product with personality that contributes, architecturally, to your daily life. For example, we have seen some great projects where sustainable wood pergolas have been integrated with solar glass to generate electricity. Technology doesn't stand in opposition to the natural. They should be combined to get the best out of each.
What lifestyle changes have you noted since the beginning of the pandemic?
The biggest change is that there are a lot of empty office buildings and a lot of people who do not want to return to the office. These enormous work centers – no matter how sustainable you try to make them, no matter the environmental certifications they have – consume a lot of steel, glass, and concrete. The volumes required to create these spaces are wrong because this is not the best way to keep doing things. These are Dubai-style buildings that I don't understand, because they are not designed for living or working.
But if these buildings already exist, what can we do?
Yes, there are many projects that separate us; people have already invested in them. But it's clear is that there's a huge supply of offices and commercial spaces that will be very difficult to fill. There will come a time when the economy will dictate that we stop investing in them, but what will we swap them for? What should be the model? The model has to take a huge leap forward; it has to travel far into the future and seek the construction of more sustainable buildings. Everything is moving forward organically, but today we have an opportunity and a market that will allow us to skip ten steps ahead and consider the future from the other side.
Do people want more open spaces?
Yes, although this is in conflict with the available square meters. I think that if people want open spaces, they shouldn't put up with buildings where they can't even open a window. If we skip those ten steps I was talking about, we'll stop calling these buildings "smart" because maybe what we need is less intelligent and more natural construction.
Construction that prioritizes outdoor space?
Yes. In all my projects, I try to make the exterior and interior a single space, and that is why I like to control the architecture, the finishes and the whole project; to be a true developer-builder. Exterior and interior are not naturally separate from one another, but their relationship has been ignored in the design of large buildings. Somehow, we have to find a way to work with a much more inclusive model. For example, I rarely make windows; I mostly make doors. In my projects, you're always going out. If you are on the ground floor, you go out to a garden or a patio, and on the upper floors you go out to a balcony or a terrace. I don't like windows. I feel like they lock me in. So I try to apply this if the climate and the type of project allow.
How do you apply it in hotels?
In hotel projects it is not so difficult. Until recently, the value of a square meter of green area or a patio or terrace was zero. They were meters lost for a real estate development company. But now it's been completely reevaluated because maybe you can open the windows, put in a door and integrate a patio into the interior space. Projects have to take the new value of free space into account and absorb it. So it's not just the 60 sqm of hotel room; we have to add the 10 sqm of common space, for example. We should prioritize restaurant terraces over car parks. For people who invest in this type of project and regulate this type of project, these are very important points to consider.
There's no doubt that architectural sustainability is one of the growing demands of today's homebuyers and travelers. And this global expectation goes far beyond a passing trend. The modern hotel developer-builder must face this great environmental challenge while still respecting the needs of his or her guests and the property developer who commissioned the project. But as Escudero points out, combining today's new technologies with traditional sustainable practices make responsible strategies possible.