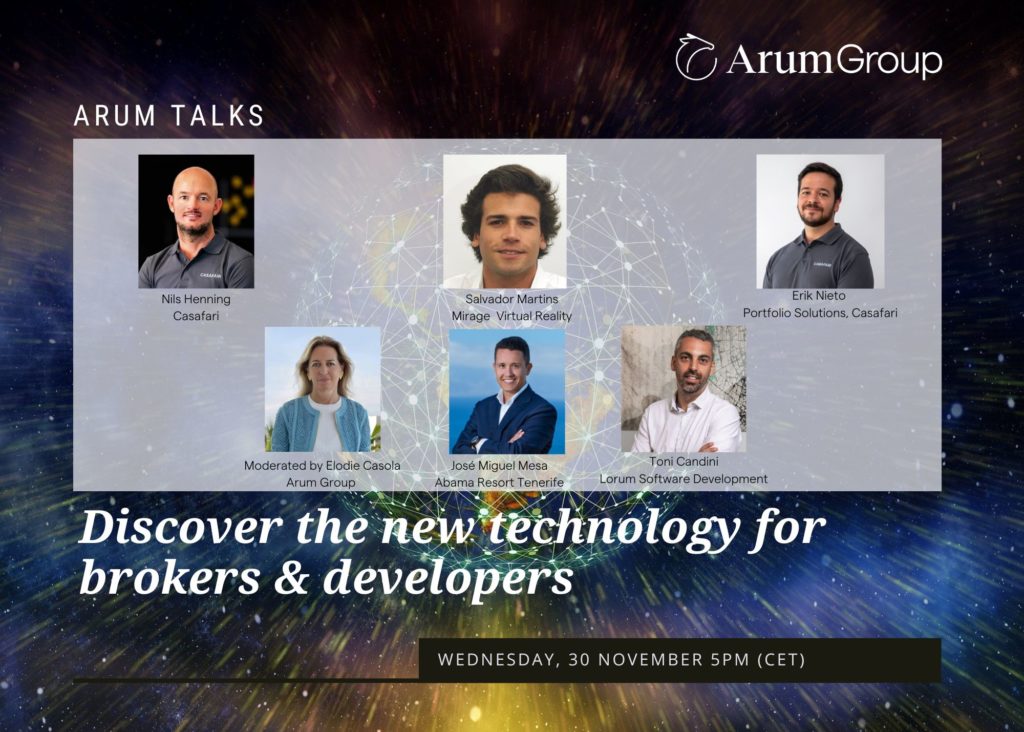 The need to eliminate opacity and speed up decision-making with updated technological resources will be the focus of the Arum Talk 'Discover the new technology for brokers and developers', which will take place next Wednesday, November 30.
The lack of transparency in the real estate market, which affects the supply of properties, the buyer search process, the complicated management of closing transactions and the opacity in the distribution of commissions among brokers, force the sector to improve its efficiency. This is the opinion of Nils Henning, a visionary who has been behind numerous successful technology startups and who created and has been running CASAFARI since 2017.
His goal was none other than to minimize "real estate noise" by developing a proprietary Artificial Intelligence (AI) technology aimed at automatically indexing, cleaning and classifying duplications in more than 200 million properties from over 30,000 international online data sources in 7 languages. This technological tool resulted in the most complete and accurate real-time real estate database in Europe. A unique B2B real estate tool that helps to establish the maximum connection between supply and demand, including, full property search, property valuation through a large number of comparators, CRM, and other features that allow to accelerate deals.
"Our vision is to organize the real estate supply in an efficient ecosystem with the most complete information for all real estate professionals. Investors, brokers and developers must have easy access to market data, the history of each property, or comparators between different properties, to be able to manage in a secure environment," says Nils Henning, who will participate on November 30, at 17:00 hours, in a webinar organized by Arum Group, which under the title 'Discover the new technology for brokers and developers', will bring together experts who will discuss the latest developments in this area.
"The real estate sector is the largest industry in the world, therefore, it needs a continuous and effective digitalization to move away from the "analog" method of pencil and paper in which it is still maintained," stresses the co-CEO of CASAFARI, who considers that in Spain, in particular, "real estate information is completely fragmented. In this sense, he explains, "we saw an opportunity, because we believe that the margin for innovation in the real estate sector was greater than in any other sector. In finance, for example, it is much more advanced," he said.
Joining Nils Henning in this meeting organized by Arum Group to get the keys that will help streamline decision-making and efficiency among the different marketplaces will be experts Erick Nieto, director of property management for Spain and Portugal at CASAFARI Spain; Salvador Martins, coutry manager at Mirage Virtual Reality; José Miguel Mesa, head of international sales at Abama Resort Tenerife, and Toni Candini, managing partner at LORUM.
In an Arum Talk moderated by Elodie Casola, Director of Marketing and Communication at Arum Group, the best professionals in their fields will try to elucidate how AI and technology can work to simplify decision-making in the sector.
If you would like to join this Arum Talk, you can do so here.